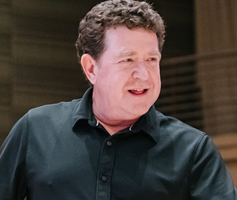 Robert Nelson
Robert currently competes at the Masters level of West Coast Swing competition and is owner of 2155 Ballroom & Events.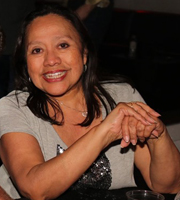 Adel Husband
Adel has competed at Novice, Intermediate and Advanced levels of West Coast Swing.
"Nobody cares if you can't dance well. Just get up and dance. Great dancers are great because of their passion."
Martha Graham

"If you look at a dancer in silence, his or her body will be the music. If you turn the music on, that body will become an extension of what you're hearing."
Judith Jamison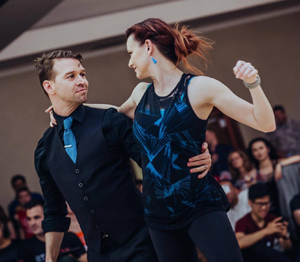 Amanda & Joel Gorman
Joel and Amanda have been studying West Coast Swing for over 15 years. They compete at the Advanced level and have taught for Texas Classic for six years. They love the Dallas community and are eager to find ways to give back and help to grow the Dallas "Westie" scene. The Sandbox (2155) is where they learned to dance in their twenties, and now 2155 is becoming a second home to their small son, Michael. They believe that you can always learn and improve your dance and they regularly study and work with some of the best in the industry to continue to hone their craft.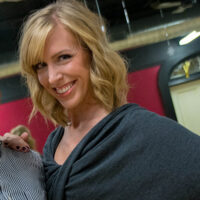 Haley Hauglum
Haley has been dancing practically her entire life with a background in many different styles such as jazz, tap, ballet and modern dance. While living in Boston she found a love for ballroom dance, as well as West Coast Swing, both socially and competitively. Haley competed all over the Northeast before moving home to Texas and is excited to continue bringing West Coast Swing to the community.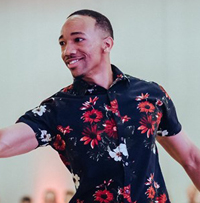 Deon Harrell
Deon fell in love with West Coast Swing in 2016. Quickly becoming a strong competitor and dancer, Deon moved from from Novice to All-Star in 1 year and 5 months! Deon is passionate about human interaction and inclusiveness. He lives out his love for those value through a program he founded, "Always Yes!" He is also an active member of Hardwood Hearts and loves teaching and dancing in his local community!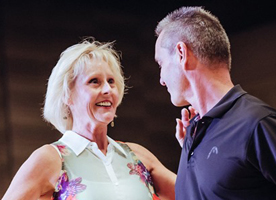 Judy Megaffin
Judy began West Coast Swing dancing and competing in 1996 in Tulsa, OK, then moved to the DFW area in 2007. She has competed 30 different routines around the country and continues to keep her WCS teacher and judging training current. Judy teaches all levels of WCS at 2155.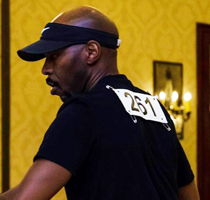 CJ Caraway
Avid competitor, accomplished instructor, skilled DJ, professional judge, and seasoned event director, CJ began his dance career as a Swing-out dancer in 2003. It was through his participation in S-Factor, a competitive dance team, that introduced him to West Coast Swing. CJ began competing individually in 2010. Since then, he has placed top 3 in more than 100 competitions. He currently competes at the All-Star Level on the national West Coast Swing circuit.